Post by donovon ian martineau on Nov 26, 2013 8:33:09 GMT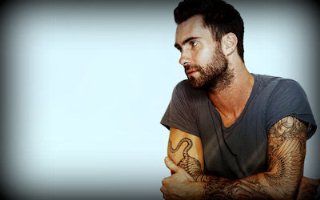 --- How to be a Heartbreaker---


NAME: Donovon
NICKNAMES: Dondo
GENDER: male
DATEOFBIRTH: Janurary 5th
PREVIOUSHOUSE: Slytherin
OCCUPATION: Free Lance Curse Breaker/ Death Eater(or future one)
SEXUALORIENTATION: Heterosexual
BLOOD STATUS: Pure Blood
WAND:13 ½ , Thestral tail hair, Yew, unyielding



APPEARANCE


FACECLAIM: Adam Levine
HAIR: Short brown hair, usually a beard as well
EYES: Hazel, they often will favor a little more green then usual. Depending on what he is currently wearing.
BODY AND HEIGHT: Dondo is rather skinny, he's toned, and is 6'2
DISTINCTMARKINGS: Tattoos, Dondo has many. He has a scar on the back of his left leg.
CLOTHING/STYLE: Dondo could care less what he looks like. He's usually just sporting a t-shirt and tight jeans with some van like shoes. Otherwise he's in Death Eater or Curse Breaking robes.



PERSONALITY


LIKES: –Tattoos, -Guitars,-Women, -Slacking off, -His little sister, -His career,-coffee,- Blue eyes, -Free lance drawing, -Laying around, -Doing his own thing, -Music,-Traveling, -Trying new things, -Curse breaking, -Co-workers, -His little sister, -Camping,- Backpacking.

DISLIKES: -Kiss ups, -Overachievers, -Music Haters, -Quidditch Players, -Glasses, -Cheap Cigars,-The Future, -Bad hair days, -Sloppy Tattoos,-'Nice Guys Finish Last', -His loyalty,- being bossed around, -Hates being given orders, -Motivated People in general.
STRENGTHS: Dondo's always had an ear for music. When he was super unmotivated in school, his talk of pursing muggle music made his father set him straight. After then Dondo attempted at doing decent the last three years of school. His father always claimed he could do music on the side.

Dondo's always had a knack of charms. Since he was young he picked up on charms a little faster than others. He believes that it's from watching his Uncle Nino perform that made him really want to pursue it. Through training in his career he picked up silent incantations.

Dondo is 100% always himself. He never has to worry about just following in a crowd or doing what others are. He is always out to please himself. Even if it's just the way he styles his hair, or how many tattoos he places on his bodies, or how many women he juggles at one time. Donovon is 100% himself.

WEAKNESSES: Loving. Call it a Martineau trait, but they have an extremely hard time showing love. Love in the days of Dondo's father it consisted of coffee early in the mornings, camping trips after he left. The love fell a little short. It wasn't until recently that his sister and fixed their relationship that he can consider really loving someone.

Listening to orders. Dondo is the master of only himself, no one else and he hates when others feel obligated to be masters over him. If you attempt to boss him around with no real authority he will give you lip. He's not one to listen to most anyone. The only person to have broken this shell is Lana but she still rides on thin ice. He's having to deal with an inner circle these days and is hating every single second.

Addicted Phases. Dondo is one of those people who will become fascinated with a new thing. It could be anything from movies, new charms, new women, tattoos, new designs, music, you name it he will go through that phase. Some phases never go away. His guitar phase ended up taking over his entire fourth year. He never stopped learning. Another phase was with the dark arts, this is what began his interest in the Death eater ways.


BOGGART: Dondo's biggest fear is getting into trouble with the Death Eaters. He joined because of his circumstances. However, he doesn't want to piss any of them off or gain any of their immediate trust. He loves to slide through life. His boggart would be receiving a mission that requires him to move up rank after completed. With failure of doing the same mission he would be looked down upon and given crap for his disloyalty.

MIRROROFERISED: Dondo's greatest desire in life is just to keep doing his thing. He would love to stay twenty forever. If he looked in the mirror he would see himself wealthy, attractive, and powerful without major responsibility. He's very content with the way his life is turning out. He's got a job that fits with his lifestyle, no strings attached. He might picture himself breaking one of the tougher curses on the list. He enjoys a little praise and fame.

VERITASERUM: Dondo was always jealous of his younger sister. She was beautiful like their mother with their father's drive and passion. Dondo was intelligent but was super lazy. He had drive but only if it benefited himself. He was selfish and this often drove the stake between his and Lana's relationship. She was the spoiled youngest child who never did any wrong.

PATRONUS: Before Dondo pledged as a Dark Wizard/Death Eater his patronus was still weak. He casted a Scorpion; The scorpion symbolizes that when you mean business you mean business, the caster is usually quiet and collected when it comes down to it, but when needed the caster can cause quite a stir. This is often one of the patronus casted by a wizard who is on the verge of not being able to cast one. This is under the snake. This isn't the most sought after patronus but for someone with limited happy memories it's decent.

PENSIEVE: Dondo's worst memory branches from when he was in his sixth year. He was with his Uncle Nino on a mission. Nino was a curse breaker for the ministry and he took his nephew Dondo, Dondo's younger sister, and his cousins. They accompanied him to Egypt to one of the biggest curses he was to break. However, Dondo and his younger sister Lana ended up fighting the entire time. Dondo and Lana fought so much they broke into a minor duel because of it. Lana's misfire ended up hitting their Uncle and because of it his uncle backfired his own spell therefore the curse backfiring on him, instantly killing Nino. Dondo ended up becoming a curse breaker just so he didn't have to feel like he still feared it. This is still his worst memory. He ended up killing his uncle because Lana and himself couldn't stop fighting for more than a second.

PERSONALITY OVERVIEW: Oh Dondo. Donovon is a different kind of former Slytherin. He often is found just laying around when he isn't working. He's passionate about his job and little sister and that's about it. His manners are less then pleasing. He's vain, self-absorbed, impatient, and just a little bit of a dick. He's in the business for self-satisfaction. If he's involved with someone he doesn't like, he'll just stay quiet. In his eyes they aren't even worth his breath. If he's around people that he likes which are rare he's often loud and sociable. He's known as the goof off who doesn't really take life all that seriously.
When he's in a sour mood watch out. He's not very friendly at all. He's not below jinxing people, he's a master curse breaker after all. He doesn't really mess around. He will become your worst nightmare. His attitude will go from pissy to angry in just a few strikes. People that messed with him in school don't even know the half of what he's capable of now. When he's going through one of his addictions phases it's best not to make fun of them or attempt to help him stop. He gets really into certain things and can't get out of them until its run its course. He treats women poorly he's known for manipulating to get his way.


FAMILY HISTORY


FATHER: Derek Martineau, 59, Pureblood,divorced, no contact since
MOTHER:Elora Neelson Martineau, 57, Pure Blood deceased
SIBLINGS:E'Lana' Martineau, 24, Pure Blood
OTHER FAMILY: Nino Martineau, 58, Pure Blood, Uncledeceased
Elizabeth Carnes Martineau, 57, Pure Blood, Aunt, Veela
Rachelle Carnes, 23, Half-Blood, Cousin
Carlo Carnes, 21, Half Blood, Cousin
SOCIO-ECONOMICSTATUS: Dondo does just fine for himself. He's a curse breaker and only has to provide for himself. So he's not extremely wealthy but he's able to buy just about whatever he wants too.
RESIDENCE: A little bit of everywhere. Being a curse breaker, Dondo is constantly traveling and doesn't really settle many places. He does own a home in London and a suite in Egypt where work has him a lot of the time.
HISTORY OVERVIEW: Dondo grew up in a modest home with his parents and little sister. There home life was fairly normal. His father worked for Gringrotts, and his mother used to be a Medi Wizard prior to her pregnancies. They had a decent income and were fairly well of. Donovon loved his father and spent as many hours as he could with him. However, after Lana was born the stress of two kids and a job lead his father to leave home. For a long time Dondo held this over Lana's head. He couldn't stand the idea that she was the reason he left. After that Elora ended up turning to various other methods of satisfaction leaving the interest of her children far behind. By the time that things got really bad both children were out of the home and attending Hogwarts.

Dondo's first year was full of rage. He hated his sister for everything she stood for and didn't even care he was leaving her behind with a mother that was unfit to mother. He didn't make a whole lot of friends and didn't care too. His first year he got wrapped up in Quidditch. He was never very athletic and decided against playing the game but read all about it. His second year he started to open up to his house a little bit. He was placed in Slytherin which wasn't a surprise. At this time Nino his uncle stepped in to being a father role of Dondo and Lana. Dondo's third year was full of hate towards Lana. She had joined him at Hogwarts and now that wasn't even his own. He started turning towards a new phase. That was of music. He didn't really know a lot about it but a half blood dorm mate ended up introducing him to various different types. His fourth year Dondo ended up losing a lot of the friends he ended up making in the first place.

Dondo's fifth year was full of procrastination his Uncle laid down a heavy law that music was important but not more important than his owls because his career was going to shape his future. Dondo finally got his act together his sixth year and started getting back into charms. He decided he really enjoyed charms and spells, and ancient runes. This summer he was invited to a job site with his Uncle in Egypt. Lana and Sharlan were invited. At the job site Nino worked tireless hours on the curse he was breaking. In the middle of the heat and lack of interest Dondo and Lana started getting into one of their usual spats. Sharlan who got along with both members of the family tried playing the peacemaker. In a last effort of getting the two to calm down, Lana pulled her wand. Dondo being older was able to cast one at her. In an effortless attempt to show her worth Lana casted one which Dondo reflected which ended up hitting their uncle. His concentration broke and Nino ended up casting wrong. The curse imploded backfiring on him and instantly killing him. Sharlan was mortified and ended up not talking to the two for a whole year. Dondo's seventh year was dedicated to school. After what happened to Nino he was scared of spells. In order to conquer his fear he knew his job destiny. He was to be a curse breaker just like his Uncle. He didn't talk to his own sister for the entire year. It wasn't until after his sister graduated where they attempted to make mends.

He immediately went into training after Hogwarts and started working as an intern for many other curse breakers. Slowly, he ended up taking a like to a certain mentor. Her name was Adella. Adella was the typical cougar. She took advantage of her pride and joy intern. Dondo didn't complain she was beautiful and she was the only real thing he had ever had. Something about Adella made him feel dangerous. She was the first one to introduce his phase of tattoos. She showed him art and various other small things that become a part of his everyday life. He finally learned that she was part of an inner circle of Dark Wizards and had joined the ranks when she first graduated like her father. Being a Slytherin Dondo never really paid much attention to what the fellow class mates were saying about the world. Adella tricked him into coming to a meeting by shielding it as a date. He realized it just before stepping inside the door and fled.

A year later went by and his name had already been revealed. People were tracking him down because of his constant traveling he never really stopped for someone to catch him. Finally in France, he was stopped by a young blonde woman who promised to make his life hell. She said he was required to go back. He had seen too much. He hardly cared until when he went back to his home in London. He received a letter threatening his baby sister. He immediately knew he had to protect what was left of his dwindling family. Since he didn't care either way of who to join he figured why not. Dondo ended up becoming a Death Eater in secret not really broadcasting it since his line of work was very dangerous. The Death Eaters knew his line of work was useful and vowed to leave his loved ones alone as long as he cooperated. For someone with a personality like Dondo it was a hard commitment. However, to this day he still serves as a Curse Breaker and in the inner circle.




[/i][/div][/blockquote][/font]THE CREATOR
YOURSAMPLE:

Dondo sat at the muggle bar with Adella at his side. She was far gone. He loved when they went out to the muggle bars. She always lost herself quicker then he did. She would lurk on others and then trail back to him giving him the opportunity to do what he pleased in the meantime. This trip whoever was a little different. They had just gotten back from Egypt. Adella was full of sand and was sloppy drinking. Most men didn't even take a second glance at her which left her a little more clingy then usual. Dondo placed his hands in his back pocket getting off the stool. He glared at the men who were falling over their stools, the chairs next to them, sometimes just the air. Dondo didn't have time for this. He could be at him with his precious new guitar. He had brought her back all the way from Spain. He really should have brought Estella home.

Estella was one of those rare girls. The shut up and let's do and talk about it later types. Most of the time Dondo woke up and Estella had already left the coop. He would never complain. He liked taking his own showers without another body to collect the steam. He spent a few extra minutes on his hair then most guys and he wouldn't think Estella would find that very attractive. He rolled his eyes watching Adella clamber to one of the guys who hadn't gone running the second she showed up. He laughed from afar when another caught his eye. He grinned watching the dark haired beauty make her way towards him. His eyes widened as she turned heading the other way. Tough luck. Dondo looked down at his wrists examining his newest tattoo. He wouldn't complain about having to get another to match on the other side. He was just waiting for that moment.

Dondo realized the light had vanished. He pouted looking up about ready to complain who was blocking his personal light when he met two pairs of brown eyes. He smirked. His plan had worked. When you don't chase the girl, but look interested. The girl always came back for a second round. Dondo watched as she left again. He shrugged his shoulders in the leather jacket, shaking some of the sand from his hair. He leaned back against the table looking back around the room. It wasn't a very interesting crowd. His thoughts drifted back to Spain. Oh how he missed spain. He had almost thought about asking Estella for her contact information. Dondo didn't roll that way and let it go. He yawned turning watching Adella from afar. He was getting bored, when Dondo got bored he always found something at least a little entertaining to do. However, this was a muggle bar and most of the time it wasn't possible to have fun in a muggle bar.

Dondo pulled around the side of the stool and pulled a letter from his pocket. He yawned, carefully opening the seal. He pulled the letter out and found that it was from Lana. He read through the details of her letter detailing her latest adventure with growing to become a Medi Wizard. He attempted to not look to terribly bored, but his sister's life was hardly adventurous. She complained about paperwork and interning and how it was a joke. Dondo couldn't help but picture a male version of Adella for Lana to intern for. She did pick a boring career after all in his opinion. She seemed to enjoy it in some of her letters. He would have to write her back about the crypt they just unlocked in hidden Spain, the coffin plated and unlocked in Egypt. He just loved rubbing it in his little sisters face. She was the favorite when they were younger. That was until she sent his father packing, and her uncle to death. He tried not to think about that anymore. His thoughts turned back to his sister. He shrugged his shoulders tucking it back into his pocket just in time to watch Adella fall of her stool. Dondo smirked and clapped gently three times before slumping back in his seat.
NAT- YEARS